Author: Kiera Cass
Publisher:
HarperTeen
Page Count:
323 pages, International Paperback
Date Published:
May 6th 2014
Find it on Goodreads:
The One
Source:
Purchased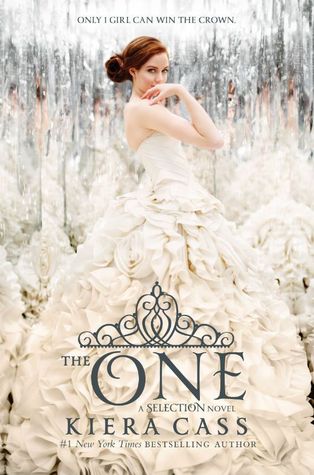 The Selection changed the lives of thirty-five girls forever. And now, the time has come for one winner to be chosen.
America never dreamed she would find herself anywhere close to the crown—or to Prince Maxon's heart. But as the competition approaches its end and the threats outside the palace walls grow more vicious, America realizes just how much she stands to lose—and how hard she'll have to fight for the future she wants.
From the very first page of The Selection, this #1 New York Times bestselling series has captured readers' hearts and swept them away on a captivating journey... Now, in The One, Kiera Cass delivers a satisfying and unforgettable conclusion that will keep readers sighing over this electrifying fairy-tale long after the final page is turned.
SUCH a satisfying conclusion to a trilogy that was addictive and kept me hooked the moment I started, yet frustrated me all the same. The Selection series is one that I wouldn't expect to love as much as I did, as it doesn't have very much... substance to it, yet something about these books kept me reading and swooning and craving more. I have very mixed feelings about America, the protagonist, but there's no denying my love for Maxon.
The moment I picked
The One
up from the store, I knew I wouldn't be able to wait to read it... I needed it, then and there! But alas, I had a babysitting job to go to and had to wait an hour before diving in... Well, after I tucked the kids into bed, I started reading and... didn't stop. I ended up finishing this book in just over three hours, completely devouring it in one sitting. I don't have a clue what it is about the story, but it just hooks you in and keeps you wanting more... and after I finished
The One
, I WANTED EVEN MORE. I was so emotionally attached to the story while reading! I wanted to
scream
at America for some of the things she was saying and I wanted to punch the king, but of course, that would just end up putting a dent in the page instead. I don't have too much that I can say without spoiling the ending, other than the fact that I am super excited about how it ended, all though I did find it to be a bit rushed. I thought the lead up to the climax was a little drawn out in some parts and then the drop down from the highest point of intensity in the story was so sudden that it was a bit hard to get used to the fact that I only had a few pages left. But OH MY GOODNESS there's one point where it's unsure if a certain beloved character is alive or not and I got so worked up over it, I could hardly breathe until I found out their fate! I thought Cass was going to pull a
DeStefano
with my FAVOURITE character and I just couldn't handle that. No way.
I also really loved the fact that we got even more background into the world of the rebels and learned more history of Illéa (?) and how the world in Cass' novels worked. It was a nice break from the girl drama of the Selection, getting some real action and adventure. I also loved the character development in a certain girl of the house... It was so great to see her grow! All in all, I was so happy about how The One ended, other than thinking it was a bit rushed. I thought the way everything was tied up nicely was a good way of ending this perfect escape story. There's not much interpretation needed at all for these books, but they are the most appropriate thing I can think of for someone wanting to escape into another world with hardly a worry. For those of you who have not yet read this series, do not go into it hoping for some great literature. Go in for the fun of it, enjoy the story, swoon over Maxon, and just escape into a world of ball gowns and princes. That is exactly what I was needing and that is exactly what was delivered. And I loved it!
Have you read this series? Are you totally hooked on it like I am, or is it too fluffy? What did you think of the ending?
Happy reading!
~Kristy