Author: Gayle Forman
Publisher:
Dutton Juvenile
Page Count:
264 pages, Hardcover
Date Published:
April 5th 2011
Find it on Goodreads:
Where She Went
Source:
Purchased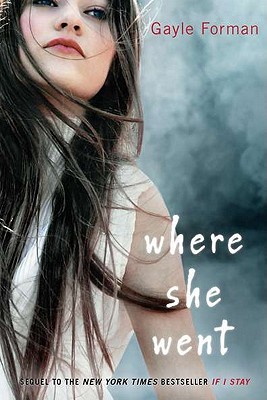 It's been three years since the devastating accident . . . three years since Mia walked out of Adam's life forever.
Now living on opposite coasts, Mia is Juilliard's rising star and Adam is LA tabloid fodder, thanks to his new rock star status and celebrity girlfriend. When Adam gets stuck in New York by himself, chance brings the couple together again, for one last night. As they explore the city that has become Mia's home, Adam and Mia revisit the past and open their hearts to the future-and each other.
Told from Adam's point of view in the spare, lyrical prose that defined If I Stay, Where She Went explores the devastation of grief, the promise of new hope, and the flame of rekindled romance.
I actually don't know how to rate this based on anything other than my feelings and emotions that revolve around this book and these characters. How on earth had I not read this series before now? I'm so in love with Mia's and Adam's story and Gayle Forman's writing. This book just filled me with warm feelings but also pulled at my heart as Mia and Adam come together once again after such a tragedy, both different people than we had seen in the first book, yet still familiar. I really enjoyed reading from Adam's perspective, it gave him a bit more depth than the mysterious and gorgeous love interest that I had seen him as in If I Stay. It was really interesting to me to see how the aftermath of the accident has affected him as well as Mia, and where his music had taken him. I definitely loved the look into their lives once more and this whole book just played with my heart like crazy.
Happy reading!
~Kristy