Author: Richelle Mead
Publisher:
Razorbill
Page Count:
348 pages, Hardcover
Date Published:
February 10th 2015
Find it on Goodreads:
The Ruby Circle
Source:
Purchased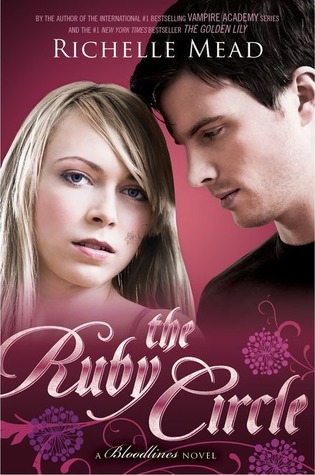 The epic conclusion to Richelle Mead's New York Times bestselling Bloodlines series is finally here...

Sydney Sage is an Alchemist, one of a group of humans who dabble in magic and serve to bridge the worlds of humans and vampires. They protect vampire secrets—and human lives.

After their secret romance is exposed, Sydney and Adrian find themselves facing the wrath of both the Alchemists and the Moroi in this electrifying conclusion to Richelle Mead's New York Times bestselling Bloodlines series. When the life of someone they both love is put on the line, Sydney risks everything to hunt down a deadly former nemesis. Meanwhile, Adrian becomes enmeshed in a puzzle that could hold the key to a shocking secret about spirit magic, a secret that could shake the entire Moroi world.
As sad as I was about finishing this series, I must say that this was a wonderfully satisfying finale! Over the three years of having this blog, I have professed my undying love for Richelle Mead's Vampire Academy/Bloodlines world too many times to count. These series are so addictive and incredibly readable and this finale was no different. Mead tied up a lot of loose ends and left little hints so as to not be boring all throughout the book about where the characters were going to end up after the book ended and I was so enthralled the entire time I was reading it. I loved the conflicts Sydney and Adrian had to go through, both physical and mental, and the resolution in the end was incredibly satisfying. It honestly felt like Mead was writing for us, the fans, and did our wishes justice while still keeping it realistic to the plot and characters. I am so sad that this was my last time reading one of Sydney's and Adrian's stories for the first time, as they are one of my favourite couples to read about. Sydney is by far one of the most important characters that I've read in a long time for me personally, because she was so different from Rose, not as physically strong or tough as her, but instead using her mind for whatever came at her. I have said it before and I will say it again: these are not just Vampire books. They are books filled with interesting stories, complicated characters, and exciting plots. I am so devastated that this series has come to a close, but it was a good run and I can't wait to see what Mead comes up with next.
~Kristy