Author: Becky Albertalli
Publisher:
Balzer + Bray
Page Count:
320 pages, Hardcover
Date Published:
April 7th 2015
Find it on Goodreads:
Simon vs. The Homo Sapiens Agenda
Source:
Borrowed an ARC from
Raeleen
(thank you!!)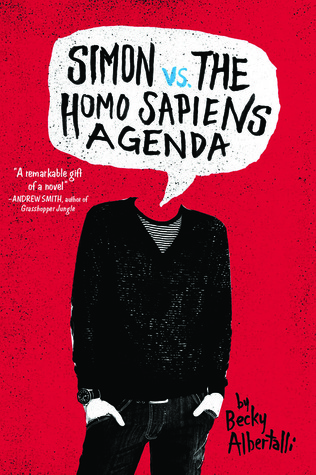 Sixteen-year-old and not-so-openly gay Simon Spier prefers to save his drama for the school musical. But when an email falls into the wrong hands, his secret is at risk of being thrust into the spotlight. Now Simon is actually being blackmailed: if he doesn't play wingman for class clown Martin, his sexual identity will become everyone's business. Worse, the privacy of Blue, the pen name of the boy he's been emailing, will be compromised.
With some messy dynamics emerging in his once tight-knit group of friends, and his email correspondence with Blue growing more flirtatious every day, Simon's junior year has suddenly gotten all kinds of complicated. Now, change-averse Simon has to find a way to step out of his comfort zone before he's pushed out—without alienating his friends, compromising himself, or fumbling a shot at happiness with the most confusing, adorable guy he's never met.
It's been difficult for me to sum up my feelings for this book in words... but basically this GIF of a smiling Jeremy Renner probably gives you a good idea of my face after finishing it:
I. loved. this. book. Here's why:
It kept me guessing about who Blue was. The entire time I was reading, my mind kept making scenarios up about the different possibilities of Blue's identity and how Simon would react.
Simon wasn't a clichéd LGBTQ character that I've seen ten million times before! He was so much more than just the 'gay best friend' or the 'closeted tough-guy jock.' He had a legitimate personality that revolved around things OTHER than his sexuality.
The friendships were awesome and complex and relatable! This friend group had problems, but they talked them out instead of getting all dramatic about them! Platonic friendship representation is so great in YA and I wish there was more of it!
The book brought up really important societal issues about sexuality, gender, and race, like this quote (taken from goodreads) :
"Why is straight the default? Everyone should have to declare one way or another, and it shouldn't be this big awkward thing whether you're straight, gay, bi, or whatever. I'm just saying."
SIMON. Probably one of my all time favourite YA characters, he was cynical, funny, a lover of Oreos and Harry Potter, and just all around incredible. I felt like I knew him, like we were friends, which is one of my favourite feelings when I'm reading a book.
It made me happy! While this book does bring up some super important ideas, it is also just plain sweet!
I have so much more to say about this book, but I might have to add onto this review later, because for now I'm tired and need to post this asap! Please, please pick this book up if you get the chance. It's cute, it's funny, and it's important.
Happy reading!
~Kristy