Author: Leigh Bardugo
Publisher: Henry Holt and Co.
Page Count:
417 pages, Hardcover
Date Published:
June 17th 2014
Find it on Goodreads:
Ruin & Rising
Source:
Purchased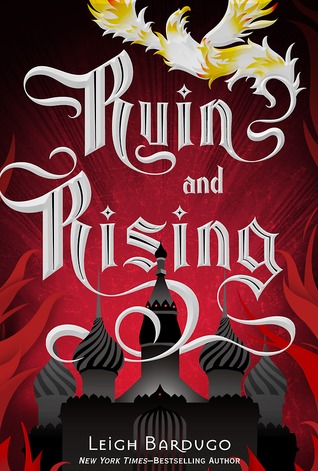 The capital has fallen.
The Darkling rules Ravka from his shadow throne.
Now the nation's fate rests with a broken Sun Summoner, a disgraced tracker, and the shattered remnants of a once-great magical army.
Deep in an ancient network of tunnels and caverns, a weakened Alina must submit to the dubious protection of the Apparat and the zealots who worship her as a Saint. Yet her plans lie elsewhere, with the hunt for the elusive firebird and the hope that an outlaw prince still survives.
Alina will have to forge new alliances and put aside old rivalries as she and Mal race to find the last of Morozova's amplifiers. But as she begins to unravel the Darkling's secrets, she reveals a past that will forever alter her understanding of the bond they share and the power she wields. The firebird is the one thing that stands between Ravka and destruction—and claiming it could cost Alina the very future she's fighting for.
Absolutely incredible. By far one of the best fantasy series out there, with a magnificent finale that had me grinning like a madman, almost in tears, and everything in between. I won't go into much detail, for all those who have yet to read the series or even just this last book, but what I will say is this: Leigh Bardugo does not disappoint. She is brilliant and writes with such a flawless execution of world building... does that even make sense? I don't know. What I do know is that these books have amazing imagery, the fantasy world is vivid, and the characters feel so real. Throughout so much of the book, I just wanted to reach into the pages of my book and give Mal a big hug, because he just made my heart hurt for him. And Alina is such a bad ass but she's also so conflicted over everything, it just... GAH. I loved all of the friendships between her and her team, as well as certain relationships that developed in this book... (
GENYA
!!!)
Ruin & Rising was action packed and filled with heart-racing, blood-pumping scenes that kept me reading late into the night. Bardugo focused primarily on the action and plot in this book, instead of the characters, which probably worked for the best, because I don't think any of us could have handled say another gorgeous love interest, right? Speaking of the romance, I won't say much, in case you know my bias, but I was extremely happy with how that all ended. I mean, sure there was a certain thing that I was a bit sad about, but all in all, this was a series that I read to make me happy, to keep me smiling. And that is what it did.
Okay, since I don't want to spoil anything from the other books, I will just stop here I guess, with me saying to things: One, t
hank you, Brad, for this incredible recommendation, this is definitely one of my new favourite series. Two, I strongly recommend this to anyone who hasn't read it yet. Everyone needs to read this series. Now.
Happy reading!
~Kristy