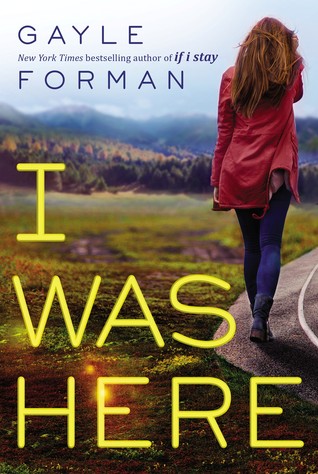 Author: Gayle Forman
Publisher: Viking Juvenile
Page Count: 270 pages, Hardcover
Date Published: January 27th 2015
Source:
Borrowed Audiobook from Library
Cody and Meg were inseparable.
Two peas in a pod.
Until . . . they weren't anymore.

When her best friend Meg drinks a bottle of industrial-strength cleaner alone in a motel room, Cody is understandably shocked and devastated. She and Meg shared everything—so how was there no warning? But when Cody travels to Meg's college town to pack up the belongings left behind, she discovers that there's a lot that Meg never told her. About her old roommates, the sort of people Cody never would have met in her dead-end small town in Washington. About Ben McAllister, the boy with a guitar and a sneer, who broke Meg's heart. And about an encrypted computer file that Cody can't open—until she does, and suddenly everything Cody thought she knew about her best friend's death gets thrown into question.
I Was Here is Gayle Forman at her finest, a taut, emotional, and ultimately redemptive story about redefining the meaning of family and finding a way to move forward even in the face of unspeakable loss.I can't sugar coat this review with niceties and introductions or anything like that. I listened to this as an audiobook from my library and it was my companion to and from work, school, everywhere. It was the book that got me through the hour and a half bus journey to a friend's house and the book that got me through my lunch break on a particularly bad day at work. Gayle Forman is a very important writer to me and to many people. I was reluctant to read this book, though, because of a couple different reasons: a) Her last duology was so extremely important to me and I couldn't imagine anything else comparing to her <i>Just One Day</i> story. b) The last time I really read and committed myself to a book about mental illness and suicide, it wasn't good for my own personal mental health, so I was scared, so so scared, to read a book that addressed the same topic, in fear that something would be triggering or even just bothersome. But here's the thing: Gayle Forman did not romanticize mental illness. In fact, she subtly, so subtly, addressed the romanticization of mental illness and how completely and utterly messed up and manipulative that can be. The heroine of <i> I Was Here </i>, Cody, is an extremely interesting character who captivated me with her guilt and her fear of grief. She was a beautiful character and her growth throughout the story was utterly heartbreaking and heartwarming at the same time. The romance in this book, to me, wasn't really that important in terms of the whole story -it was a fine addition, but it wasn't what I was focused on while reading. Instead, I was focused on Cody's grief, on her resolve to find out more about her best friend's death, and about her development as a person after such a tragedy. Gayle Forman wrote a book about suicide, but I didn't come out of it shaking and scared, like I did the last year when I read a book about mental illness. Gayle Forman is a beautiful writer and I am so grateful to be alive in the time when she is writing.
Happy reading
~Kristy