Author: Leila Sales
Publisher:
Farrar, Straus and Giroux (BYR)
Page Count:
279 pages, Ebook
Date Published:
September 17th 2013
Find it on Goodreads:
This Song Will Save Your Life
Source:
Purchased ebook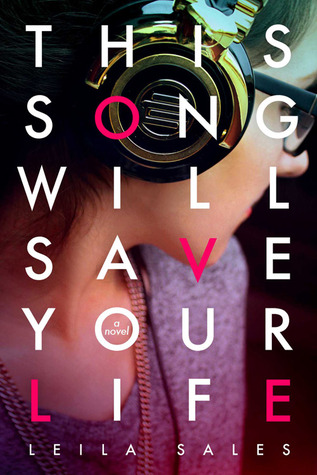 Making friends has never been Elise Dembowski's strong suit. All throughout her life, she's been the butt of every joke and the outsider in every conversation. When a final attempt at popularity fails, Elise nearly gives up. Then she stumbles upon a warehouse party where she meets Vicky, a girl in a band who accepts her; Char, a cute, yet mysterious disc jockey; Pippa, a carefree spirit from England; and most importantly, a love for DJing.
Told in a refreshingly genuine and laugh-out-loud funny voice, THIS SONG WILL SAVE YOUR LIFE is an exuberant novel about identity, friendship, and the power of music to bring people together.
I was really not expecting to like this book as much as I did, nor did I think I would fly through it as quickly as I did. This book was not a light one, nor was it perfect, but it was a good read that made me think a lot and tugged at my heart strings. I will say, this is not the book for everyone. It's definitely one that has a writing style that's to some people's taste and not other's. The voice is younger, recognizable even, but the story is unique, or at least the concept is. I loved the huge focus on friendship this book had, as well as of course, music. It's hard for some books to truly capture the essence of what music means to a character and how that can relate to the reader, but this one did just that, and well. There was romance, but not a lot, and some really great parts about girls and friendship and popularity. This is an issue book, dealing with suicide and self-harm, so it might be hard for some to read, just to put that out there as a warning. Again, I really enjoyed this one and appreciated that it was a bit unique, a bit different. The characters were interesting and eclectic and they felt like real people, which is always an extreme positive for me when it comes to books. Definitely give this one a shot if you enjoy books that deal with tougher stuff as well as music!
Happy reading!
~Kristy